Made with Bosquet Gluten-Free Pizza Crust Mix
(makes approximately 18 franks per 300g bag of mix)
Our Gluten free pizza crust is a great way to keep your piggies warm with our take on an all-time favorite appetizer, the traditional cocktail wiener. Great for kids!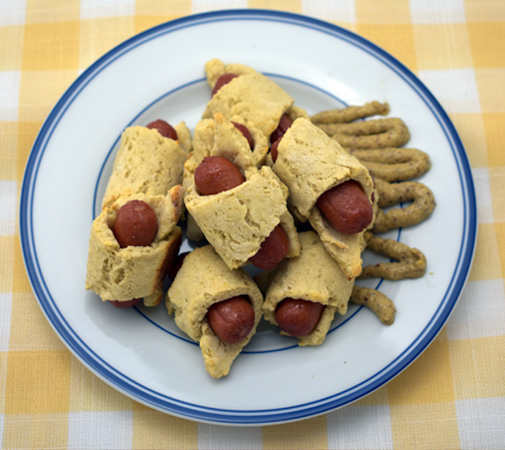 Ingredients:
• Bosquet Gluten-Free Pizza Crust Mix
• 1 large egg
• 5 oz. water at room temperature
• 1 tablespoon vegetable oil
• brown rice flour (small amount for cutting board)
• 12 oz. package of cocktail franks

Instructions:
1) Preheat oven to 350°F
2) Prepare Bosquet Gluten-Free Pizza Dough as instructed on package
3) Roll out dough on a floured cutting board so it is no more than 2mm in height (if dough is too sticky, sprinkle a small amount of brown rice flour on top and continue rolling)
4) Using a small kitchen knife, slice dough into 2-inch by 4-inch rectangles, then slice diagonally to create triangles
5) Place cocktail frank on the wide side of the triangle and roll toward the point on the opposite side, then place point-side down on ungreased cookie sheet
6) Bake 12-15 minutes
7) Remove from oven and place on serving plate.